I recently met the mythical Elliot Murphy, the well-known New York rocker, when he came to Spain to perform with his band at the  "La Mar de Ruido" festival. Our meeting took place at his hotel in Avilés, the Asturian town where the festival is held and in which, Elliott Murphy (as all the media and us agree) is the main attraction.

We can see him from afar. He awaits us at the door of the hotel with that unmistakable style that attracts so much attention: his Panama hat that completes his rocker look; His smile is wide, welcoming and his English has that American accent that he has not lost despite having a half-life based in Paris.
Elliott Murphy has been dedicated to the world of music since he was 12 years old when he started his guitar lessons. In 1973 he released his first album "Aquashow" and since then he has not stopped composing.  We could possibly spend hours talking about music, which is supported by so many successes, but I prefer to dedicate this interview to his writer facet, not so well known but very important and wide. To prove it, Elliott has in his hand his latest novel, "Diamond By the Yard", which he signs and dedicates.
Mi Trampolín.- On the cover of "DiamondsByThe Yard" we see an illustration of the mythical Long Island club "Stephen Talkhouse", so how much will music be a part of the novel?
Elliot Murphy.- "Diamonds by the Yard" actually takes place at a very important moment in the history of rock and pop music – the mid 70's – when singer-songwriters such as Bruce Springsteen and Billy Joel began to attract a huge following while at the same time punk music was gaining much media attention at CBGB's and other downtown clubs in NYC. Also, we saw the rise of Disco music and then in 1977 the death of Elvis which was really the end of an era! The main character in Diamonds is a struggling singer-songwriter named Lee Franklin who is actually performing at the Stephen Talkhouse – a club on the end of Long Island where everybody from Keith Richards to Billy Joel has performed at various times. Lee meets an heiress from Texas – Lexi Langdon -who falls in love with both him and his music. It's an explosive combination!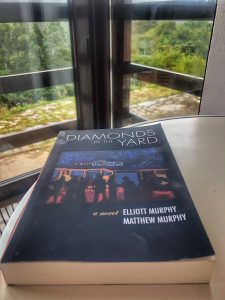 Mi Trampolín.- "DiamondsByThe Yard" was written with your brother, Matthew, what moves both to write this novel?
Elliott Murphy.- My brother Matthew Murphy played bass on my first album "Aquashow" and has been in the music business for as long as me, mostly working as tour manager for groups such as Talking Heads and Eurythmics and so many others. He had this idea of writing a novel together which would take place in the 70's when we both began our careers. I was living in Paris so we communicated via Facetime for months and we worked on the story.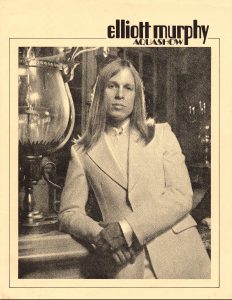 Mi Trampolín.- In an interview with the ABC newspaper, you said that literature was your religion and rock and roll your addiction, is writing still a  driving force in your life?
Elliott Murphy.- I can't explain why but if I write in the morning I feel better the rest of the day and if I don't write then I feel like something is missing and I'm depressed. Some people go to church in the morning and it helps them get through the day. Even if we are not religious I think we all hold certain things sacred and for me it's literature. I also can't pass a guitar or piano without playing a tune for a few minutes. And since I put my "boat" on the rock 'n roll river my destiny has been shaped by music. But lately, I've been concentrating on writing and especially publishing short story collections, the latest of which is "Garden City Stories."  I wrote so many stories in the 1990s that I am only now starting to organize them. Maybe because I turned 70 last March I feel that I should speed up my activity in music and writing. The clock is ticking!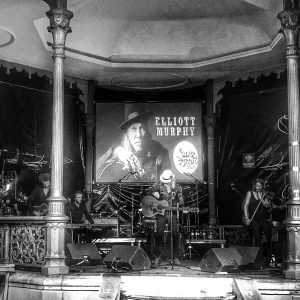 Mi Trampolín.- Does the passion for writing come about in the same way as music?
Elliott Murphy.- The actual creative process of making music or writing fiction is quite different. Songs are short– sometimes only 3 minutes although I do have a few songs that are over 10 minutes – you really need a very intense feeling of inspiration to write a song with a solid emotional force. Whereas writing a novel or short story requires continuous work and, at least in my case, constant editing. I rarely edit my songs – sometimes changing a word here or there for better rhythm – but my books are always in a process of editing. Walt Whitman, the first great American poet, was editing his most famous poem "Leaves of Grass" up until the day he died and I understand why. Now I can understand why Don Quixote was fighting windmills when I battle with words, paragraphs, and chapters.
Mi Trampolín.- Some of your stories and novels use the titles of your songs, do you get inspired to write while composing songs?
Elliott Murphy.– When I write a song I can almost see the film of that song coming to life in my head – I can imagine the characters and settings too so there is a lot of cross-fertilization that goes on between my music and writing. Songs are like the preview for an unwritten novel or a film that was never made. I was listening to a song of mine today "The Beginning and the End" (from the album Murphy Gets Muddy) and I realized it really is a short story set to music. My songs know more about me then I know about my songs and sometimes they are the angels that inspire me long after they're finished.
Mi Trampolín.- What are your literary references?
Elliott Murphy.– If you mean what writers have influenced me it would be a very long list indeed! But lately, I've been listening to Leonard Cohen songs and reading his poetry. He seemed to have the same muse as me when it came to music and literature – he clearly lived in both worlds. Leonard was influenced by Federico Garcia Lorca who I also find inspirational and writers such as John Steinbeck and Jack Kerouac always moved me because they wrote "road" novels and the life of a musician or rock star is on the road. But my great hero has always been F. Scott Fitzgerald because "The Great Gatsby" is a near-perfect novel (and it's also short) and also because Fitzgerald was so forgotten at the end of his life but he kept writing anyway and never gave up. His tenacity has given me hope in my own dark times. I met Leonard Cohen back in the 1980's – he was standing alone at the upstairs bar of the Lone Star Café in NYC and I went up and introduced myself. We talked about Alberto Manzano who we both knew and who was translating my book "Cold and Electric" at the time. I'll never forget the intensity of his eyes when he talked to me.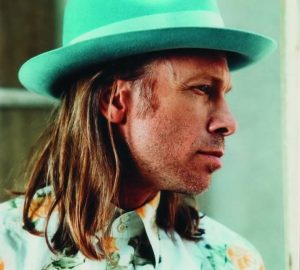 Mi Trampolín.- What or who do you credit with inspiring you to write?
Elliott Murphy.- My mother Josephine who passed away last December at the age of 92 was a great reader and she loved books and always read whatever I wrote.  Sometimes she was very critical! But I didn't care because I was just grateful that she was interested in my creativity. Both my parents were very encouraging about my music and writing and my father, Elliott Sr., was a natural musician. It's a great gift to have parents who share your passions. I can write almost anyplace, anytime and I have very little discipline. I would like to be one of those writers who wakes up each morning at 6 and writes until lunch but I'm not and never will be. Rock 'n roll has no schedule and that lifestyle has been the main inspiration for my life. Freedom!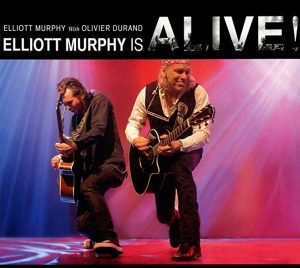 Mi Trampolín.- Recently you have just published another book of short- stories, "Garden City Stories.".  Can you tell us about this work?
Elliott Murphy.– "Garden City" was the town I grew up in on Long Island and all the stories in this collection were inspired by experiences and feelings I had when I was a young teenager walking those tree-lined suburban streets. But the stories do not all take place in Garden City. I even included the first story I wrote when I was only 14 years old. I have to admit, the writing in that story "Getting Away" is not so extraordinary but the feeling of wanting to escape, wanting to get on the road, be someplace else was already there. They say an expatriate is someone who feels more at home when he's not at home and now I've lived in Paris for 30 years so I'm a real expatriate at heart.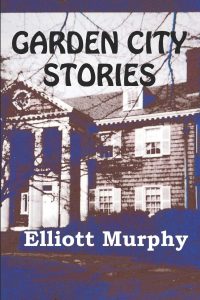 Mi Trampolín.- You recently finished shooting a movie where you star and whose title is "BrokenPoet", which is the title of one of your songs and also of a story written by you. The film tells the story of a fictional New York musician who, at the height of his career, leaves the United States and disappears in Paris. Tell us, is it autobiographical?
Elliott Murphy.- "Broken Poet" is based on a short story I wrote in the early 80's "The Lion Sleeps Tonight" and in it, Jake Lion, a famous although purely fictional rock star of the '70s is presumed dead in Paris but maybe he is re-discovered years later by a journalist from Rolling Stone. It's not my story because I was never as famous as Jake and I never jumped off a bridge in the Seine. But I share many of Jake's feelings about the music business and being treated as a "product" by well-meaning record companies. I've had a very long career in Europe and still have fans in the US who come to my shows when I return so I never really disappeared. But I think that is a temptation that every rock star feels from time to time. To become anonymous again. Maybe someday I'll play in the Paris Metro like Jake Lion.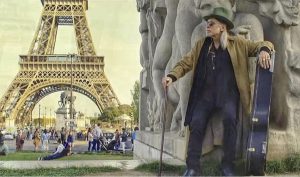 Mi Trampolín.- Tell us about "Tramps", another of your rock´n roll novels.
Elliott Murphy.- Tramps is actually the name of a 1980's era blues bar in New York City where I played every Wednesday night for years. But the novel "Tramps" is about an ex-punk musician named Hoover who is addicted to cocaine and spends his nights in the basement of Tramps standing among the rat poison snorting cocaine with his best friend, bartender, and drug dealer Jacky. Hoover loves the blues and also loves to go see fine art in the rarified uptown elegance of the Frick Collection museum in NYC. He's also involved with a beautiful call girl. It's not my story at all but it's a world I once knew well.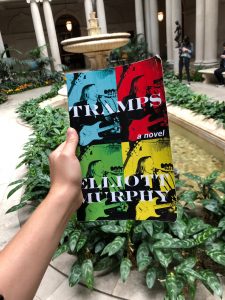 Mi Trampolín.- Some of your novels are located in places like New York City and the Hamptons, what do these places mean to you?
Elliott Murphy.- I've also written a lot of stories that take place in Paris and Spain and my novel "Poetic Justice" took place in the old west of America in Oklahoma, a place I've only visited once! New York was where I received an education on the "mean streets" after leaving the safe suburbs of Garden City and The Hamptons was where great painters like Jackson Pollock and Willem DeKooning (who I once met) lived. I still visit both places quite often so I guess there must be a permanent attachment and attraction. Ironically, I always loved California but I never lived there. When I was a kid everything cool came from California – Surfing, Beach Boys and Disneyland! But when it came time to leave New York I headed in the opposite direction and moved to Paris. Strange eh? Once again, I followed the rock 'n roll river …
Mi Trampolín.- Currently, your books are in English, will they be translated into Spanish?
Elliott Murphy.- Varasek Ediciones will publish my memoir "Just A Storie From America" along with "Tramps" and some of my poetry in a Spanish edition later this year. And some of my previous books – "Poetic Justice" and "Cold and Electric" – have also been published in Spanish.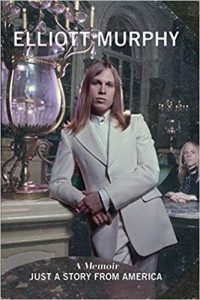 Mi Trampolín.-On many occasions in your work, music and literature have gone hand in hand, it is obvious that both the word and song go together when it comes to your inspiration, but could you define what inspired you first? Or, and as often happens, is it impossible to separate the two?
Elliott Murphy.- I really can't separate the two and for me, they go together perfectly with no conflict. Publishers use to tell me that people who listen to rock don't read books! But that's not true at all. I don't know where inspiration comes from but when I walk into a fine book store, it's like I entered a church and I'm surrounded by so many words that all originated in someone's mind, that someone struggled to put on paper, to make sense, to justify our non-sensical existence.
Mi Trampolín.- In an interview of last year, you said you would like Woody Allen or Martin Scorsese to make a movie about your book "Marty May". Why would you like it to be specifically a film from that book and why those directors?
Elliott Murphy.- Well "Marty May" is a very New York story and both Woody Allen and Martin Scorcese know how to make New York movies! I'd like Abel Ferrara to make a film of "Tramps" and "Diamonds by the Yard" would require Steven Spielberg! I'm a real dreamer, I know but as the poet Delmore Schwartz said (and he was Lou Reed's favorite poet) In dreams begin responsibilities. Honestly, I don't think a really great rock 'n roll movie has been made yet. But I think it could come from one of my novels or short stories. Maybe "Broken Poet" directed by Emilio J. Ruiz will be the first …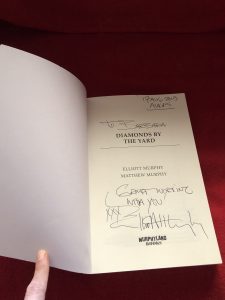 Elliott Murphy's books are available  at www.amazon.com
Bárbara Caffarel
Equipo de Mi Trampolín. 
#yoestoyenmitrampolín